FORGET Digging Holes..
DRILL

Them! - The Plantease Garden Drill Auger is making planting easier and less difficult in 2020.

Summer is coming and many of us are stuck at home unable to enjoy the outdoors.

It's time to bring your garden to life by introducing some of your favourite plants, herbs or vegetables, and a sense of satisfaction of being self-sufficient AT HOME!

Home Atlantis has you covered with the Plantease - Garden Drill Auger

Plantease has many applications but its main purpose is to drill holes in the soil, quickly and pain-free, enabling you to plant more and enjoy your garden.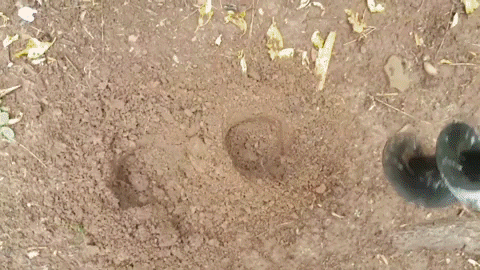 Traditional digging is a great form of exercise although this is a very tiring and physical action. Using shovels and small spades can be especially difficult for those who suffer from arthritis or deal with ongoing back, or shoulder pain.
We understand that we all have busy schedules and for those avid gardeners or for those who have been putting off getting into the garden and planting, it will only lead to your seedling/ plants delayed growth. 
No more should you FEAR! there's no better time than now to get into the garden and plant, not one but many of your favourite seedlings!
Whether or not you're a seasoned gardener, landscaper or someone simply wanting to get into the garden and plant something for the first time. The Plantease Garden Drill Auguer will have you covered and you'll be digging holes before you know it. If you are looking at planting seedlings, bulbs, mix fertilizer or needing to to make holes for fencing, The Plantease will make the job far easier for you than before.
Highlights
✅ DO THE JOB FASTER & SAVE TIME - We all live busy lives, if we can assist in making your job easier and having to replace the manual labour involved in digging then our job is DONE! get the job done faster and with less effort required.
✅ MULTIPLE APPLICATIONS - The Plantease Garden Drill Auger is NOT going to be a tool you buy and use once...as listed above it has MULTIPLE applications and will be in the tool kit for many years to come.
✅ HIGHLY EFFECTIVE - Drill through most types of soil and material such as solid clay and shale soil. (For harder material, it's suggested to use SIZE 4)
✅ PREVENT INJURIES AND CHRONIC PAIN - Less effort and physical actions means less strain on your bodies, especially those who suffer from Arthritis. Enjoy planting and gardening without disturbing existing pain or injuries.
✅ DURABLE - A garden tool that will LAST and be used for many years to come made from high-quality Carbon Steel
PRODUCT SPECIFICATION & SIZING:
| | | |
| --- | --- | --- |
|               Size |            Width |          Length |
|              Size 1 | 4 CM / 1.58 INCH | 45 CM / 17.72 INCH |
|              Size 2 | 4 CM / 1.58 INCH | 22 CM / 9.84 INCH |
|              Size 3 | 8 CM / 3.15 INCH | 45 CM / 17.72 INCH |
|              Size 4 | 8 CM / 3.15 INCH | 22 CM / 9.84 INCH |
*Drill not included*
FAQ:
Question: How does this garden auger do in harder soil?
Answer: The Plantease auger is best suited for loose or medium soil however it is capable in harder soil with a more powerful drill

Question: What kind of drill do I need? 
Answer: We recommend using a 12V Drill with any 3/8" or larger chuck.
Question: What speed should I use on the drill?
Answer: Always run the auger on slow in case it catches on anything buried such as large rock etc.
Recommendations:
 🌱 Size 1 - Perfect for punnets of flowers, vegetable seedlings, small bulbs, and aerating tired lawns comfortable and easily. Suitable for those who would prefer not having to kneel.
🌱 Size 2 - Same width as Size 1 but with a shorter length, suitable for those who do not have issues withing being on their knees.
🌱 Size 3 - Stand up and dig your soil! Great for those larger projects such as aerating your compost heap and start your post holes. It will even mix concrete.
🌱 Size 4 - Optimal for digging into the soil for deep cultivation, general tiling, and preparing post holes. Perfect for the vegetable garden. 
⚡ A minimum 18-volt battery is required
Tips to Use: 
It's strongly recommended to use TWO HANDS with a firm grip when using the auger at all times no matter the application
Go slowly to avoid hitting hard material quickly, the firmer the soil the slower the speed is recommended
If you're wanting to increase the diameter of your hole, move the auger in a circular motion to bigger the hold
PLEASE keep the auger away from Children
It's time to stop procrastinating and get in the Garden and start PLANTING!
Get 50% OFF TODAY! Offer Ending Soon
In Stock and Ready for Shipping!
Get your 50% OFF when clicking the 

ADD TO CART

 button
We understand the current pandemic is affecting a lot of industries. Here at Home Atlantis, we can confirm that orders are still being shipping daily with minimal delays. 10-15 Days USA, UK, Australia & Europe. 15-25 Days to all other countries and regions
Not happy with your purchase? contact us within 30 days of your purchase to discuss a return or exchange! info@homeatlantis.com