SAY GOODBYE TO STUMBLING AND BUMPING INTO THINGS IN THE
DARK!
Motionsense LED Lights are your night time SAVIORS, a truly hands-free way to light up your bedroom, hallway or closest where the light switch is too far away. Forget worrying about leaving the lights on when not needed and rising electricity bills.
HIGHLIGHTS
💡 MOTION SENSOR - In built smart sensors can register movement from up to 3m away when darkness is detected. Get that late night snack with ease and not worry about bumping into furniture!
💡 SIMPLE INSTALLATION - The Motionsense LED Light is truly a simple and quick installation that anyone can handle! no tools required, utilize the magnet behind and the adhesive tape supplied for a quick no FUSS install
💡 ENERGY EFFICIENT - Automatic power off after 15-20 seconds usage and no movement detection. The Motionsense requires 3 AAA batteries (not included) which provides substantial illumination in areas which have limited or no access to electricity.
💡 MULTIPLE VARIATIONS - Motionsense LED offers two light modes and two casing options. Choose from: 
White Light - Silver Case

Warm White Light - Silver Case

White Light - White Case 

Warm White Light - White Case 
EASY INSTALLATION
Remove back cover and install 3 AAA Batteries (Not Included)

Ensure the surface your going to use is clean and free from dust or debris

Peel back the adhesive strip, apply it to the light and press firmly on your chosen surface or location!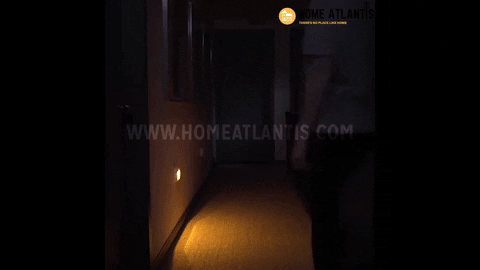 IMPORTANT TIPS
The Motionsense LED Lights will only turn on in a dark environment 

Ensure that the batteries are installed in the correct direction

Keep the lights away from infrared heaters as this can cause the lights to fail but will return to work after approximately 30 minutes once the heater has been turned off

Ensure the wall surface is clean and dry so that the adhesive pad can be stuck securely
With automatic detection of up to 3m and 120 degrees, you can experience smart lighting technology in a safe and energy efficient manner. The auto off feature after 15-20 seconds will see your batteries lasting much longer and bring down unwanted electricity bills!
Mix and match lighting modes and case colours to suit your home decor.
SPECIFICATIONS
Sensor Range: 3m & 100 Degrees
Operating Temp: -20°C - 40°C  
LED Qty: 6 LED
Light Colour: Pure White or Warm White 
Size: 8*8*1.8cm
Battery: 3 AAA Batteries (Not Included)
FAQ
Q: Do these work outdoors?
A: They are not waterproof so outdoor usage is not advised, keep the lights away from weather at all times.
Q: I need replacement adhesives, how do I order them?
A: Go to your local hardware store and pick up any quality double sided adhesive tape and cut it to size.
Q: Does it work right away after you put batteries in?
A: These are not switch on/off lights. These lights have motion sensing technology and will only turn on when motion is detected and most importantly when the surroundings are dark enough
The Motionsense LED Lights are currently in hot demand! we are currently offering BONUS FREE Shipping when 3 or more lights are purchased.
Click the
Add To Cart Button

To Get Yours Today!
We understand the current pandemic is affecting a lot of industries. Here at Home Atlantis, we can confirm that orders are still being shipping daily with minimal delays. 10-15 Days USA, UK, Australia & Europe. 15-25 Days to all other countries and regions
Not happy with your purchase? contact us within 30 days of your purchase to discuss a return or exchange! info@homeatlantis.com
Liquid error: Could not find asset snippets/judgeme_widgets.liquid