Don't have enough room for a traditional garden? but have always wanted one?
Then Vertical Gardens are for YOU! Not only are they beautiful but they are space-saving sustainable addition to your HOME.
Have a few feet of space at your home or apartment? That's MORE than enough to start your very own VERTICAL garden!
Apartment living is on the rise, fewer of us have access to garden space. Vertical gardens are an innovative way to create urban gardens.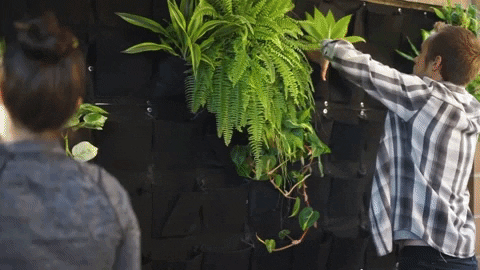 These wall mounted pocket panels allow you to finally grow that garden you thought you never could!
Now you can turn an unused wall or plain area into a lively, vibrant and green vertical garden and make your home or apartment look absolutely Amazing.
🌱 LIVE A GREENER LIFE - Made from non-toxic and Ec-Friendly material the Pocketgarden panels are safe for long term use.
🌿 SUITABLE FOR A VARIETY OF PLANTS - The pockets are surprisingly large, you can enjoy planting a variety of plants such as any variety of herbs, succulents or vegetables.
🏡 ENHANCE YOUR SPACE - Turn your unused or BORING areas into exciting and lushes vertical gardens.
Decorate your garden or balcony with these simple yet amazing Pocketgarden panels this SUMMER!
Go green this SUMMER! 
The Pocketgarden - Garden Wall Panels are in stock and available for Immediate Shipping!
Get 20% OFF when clicking the ADD TO CART button
We understand the current pandemic is affecting a lot of industries. Here at Home Atlantis, we can confirm that orders are still being shipping daily with minimal delays. 10-15 Days USA, UK, Australia & Europe. 15-25 Days to all other countries and regions
Not happy with your purchase? contact us within 30 days of your purchase to discuss a return or exchange! info@homeatlantis.com